Efficiency, precision, high quality, ease to use: GANSHORN uses its 40 years of experience in pulmonary function diagnostics to develop software that makes diagnosing patients easy.
LFX, the 10th generation of GANSHORN pulmonary function software, makes measurements as easy as possible for user. Large format displays allow quick and correct evaluation of measurements and breathing maneuvers at first glance.
The use of modern Windows tools enables platform and language independent communication. A modern database concept using both Microsoft SQL and MySQL provides the perfect approach – both for the practicing physician and for large hospital networks.
EFFICIENCY
No volume calibration
Automatic offset correction
Online BTPS compensation
Graphical tools for evaluation
Measurement results within seconds
Children animations
PRECISION
DLCO sample can be 0.05 l and still obtain valid results
Flow/volume: selection of best In/Ex curves from group of multiple experiments
GLI, ECCS, NHANES, ATS etc.
Reference values available and editable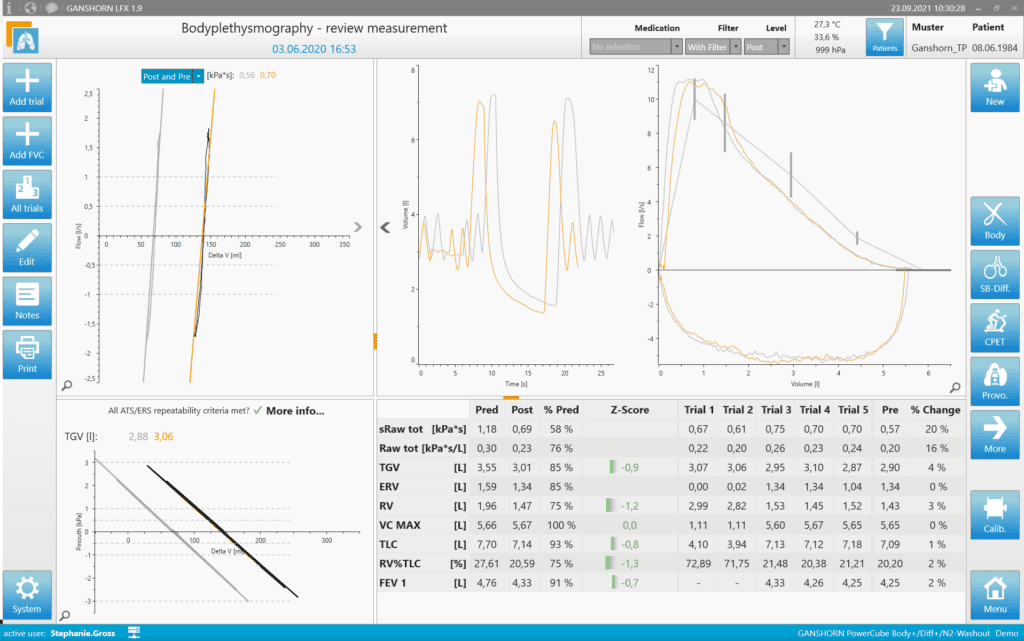 HIGH QUALITY
Clean and modern design
Maximum speed of diagnosis
Quality control of measurements via ATS/
ERS criteria
Customizable templates and reports
Comprehensive service and support
Intuitive workflow
USER FRIENDLINESS
Large fonts and icons
Colorful Z-score scoring features
Improved patient collaboration through
graphical tools
Drag-and-drop system
One common database for complete
Pulmonary Function Laboratory
CONNECTIVITY
Integration with HIS
Microsoft SQL database development
HL7 communication
DICOM data transmission
GDT interface
Export of PDF and raw data files
Full network compatibility
User-definable templates and reports
SYSTEM REQUIREMENTS
min. Microsoft Windows 7
at least .Net Framework 4.5.1
RAM (LFX client only) 2GB
20GB free disk space
on hard disk for installation
1366×768 pixel screen with 16-bit color and 512 MB VRAM (1 GB recommended)